Lead Long Machinery Co., Ltd.--Machines to make mesh and perforated metal
---
Lead Long Machinery Co., Ltd., established in 2001, is a major maker in Taiwan of metal mesh making machines, and is headquartered in Tainan City, southern Taiwan, where metalworking machinery manufacturers are clustered.
The company mainly offers machines to make expanded metal, perforated metal, chain link fence, barbed wire, razor barbed tape wire, as well as specialized metalworking machinery and peripheral equipment, C-type perforating machines, levelers, plano-type perforating machines, and sheet rollers.
This maker is known for designing a variety of machines with the highest quality, user friendliness, and high productivity.
After years of development, the company can roll out wide-ranging metal mesh making machines, while the in-house R&D team can help specific machinery to meet customers' special requirements. Since its inception, the company has consistently developed value-added products to cope with ever-changing market trend.
Besides developing multi-functional metal mesh machines featuring easy operation and high efficiency, this maker can readily develop made-to-order products, all of which are fully, strictly inspected.
Recently the company introduced a five-foot expanded metal mesh machine with a de-coiler and flattener, operating 200-1,000 strokes-per-minute handling maximum 3,100mm width and 0.3mm-8mm thick materials. The machine can be equipped with accessories as ordered. (BS)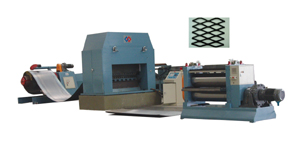 A five-foot expanded metal mesh machine.


Lead Long Machinery Co., Ltd.

Tel: 886-6-580-2272
Fax: 886-6-580-2273
E-mail: leadlo.ng@msa.hinet.net
Website: www.leadlo-ng.com