Lead Long Machinery Co., Ltd.--Metal mesh machines, components
---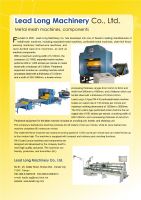 Founded in 2001, Lead Long Machinery Co. has developed into one of Taiwan's leading manufacturers of metal-mesh machines, including expanded-metal machines, perforated-metal machines, chain-link fence-weaving machines, barbed-wire machines, and razor-barbed tape-wire machines, as well as machine components.
With a maximum working width of 3,100mm, the company's LE-1600L expanded metal machine performs 200 to 1,000 strokes per minute on metal sheet with a thickness of 0.3-8mm. Peripheral equipment includes an uncoiling machine which processes sheet with a thickness of 0.3-8mm and a width of 300-1900mm, a leveler whose processing thickness ranges from 3.2mm to 8mm and width from 600mm to 1600mm, and a flattener which can be fed sheet with a thickness of 0.3mm-3.2mm.
Lead Long's C-type PM-410 perforated-metal machine boasts an output rate of 130 strokes per minute and maximum working dimensions of 1220mm x 3050mm. The firm's plano-type perforated-metal machine has an output rate of 180 strokes per minute, a working width of 620-1250mm, and a processing thickness of sub-2mm. Peripheral equipment for the latter machine includes an uncoiling unit, leveler, and shearing unit.
The company's barbed-wire machine produces 22-45 meters of wire per minute, while its razor-barbed wire machine completes 60 meters per minute.
The chain-link fence machine has maximum turning speed of 1,000 rounds per minute and can make fences up to four meters high. The machine is equipped with compact and ordinary pack recoiling functions.
All of Lead Long's machines and components are designed and developed by the company itself to meet high quality standards. The machines are friendly, productive, and diversified. (KL)